Usona Esperantisto № 2022:4 (jul–aŭg)
Report from the Montreal UK
Esperantists will long remember the 2020 2022 Universala Kongreso (UK) in Montreal as a significant one in the history of our movement. The first UK in three years, the first one in North America in almost forty, and the first one in Eastern North America since Zamenhof went to Washington in 1910. More subjectively, it was the first significant opportunity for the movement to come out of its "online hibernation," the first moment for many "pandemic Esperantists" to experience living Esperanto culture in person, and the first time for many of us to see old friends (whom we had perhaps never met in the real world). Setting that sentimentality aside, I can honestly say that this UK had many elements which set a new standard, far beyond the two previous UKs that I attended. But more on that later.
Whatever significance the UK will claim in the history of the international movement, there's no doubt in my mind that this UK (and the Landa Kongreso of Esperanto-USA that took place as a part of the UK) will absolutely go down as the start of a new chapter for the Esperanto movement in the US. I think everyone who was there probably feels similarly. For everyone else, I'll do my best to give the sense of it, or at least of the parts that I saw—the UK was so rich in programming that I often had to make hard choices about what to attend!
Day 1: Saturday, August 6
There is a system of large underground corridors beneath UQÀM (the University of Quebec in Montreal), our kongresejo, allowing students to move between buildings in the winter without braving the elements. One of these corridors has been converted into the Movada Foiro, where various parts of the movement are able to present their work: everything from the Swiss or Nepalese Esperanto associations, to TEJO (the international youth organization), various publishers, even the international Esperanto jurist association. I'm on double duty, running back and forth between the vegetarians and the left-wing SAT. Esperanto-USA also had a table, and although there was apparently miscommunication on the board about who would bring our materials, Vice President Alex Miller saved the day with information about the Usona Bona Film-Festivalo. Even amid the chaos, I'm able to see many old friends and acquaintances. Just as interestingly, there are many people I've never met before, including a large number of Americans. The foiro seems to be functioning as an informal meet-and-greet just as much as its official purpose, and the building excitement is palpable. As the foiro comes to an end, I join several other Americans—friends whom I've only seen on a screen, friends whom I've never met before—for an informal bierumado, which became one of our running traditions, where we were able to process the past day and share our excitement about the coming one.
Day 2: Sunday, August 7
The morning is reserved for the Solena Malfermo to officially open the UK. It's in Salono Zamenhof, a large old-school theater. It's simultaneously official, professional, and festive. There is a powerful moment where participants are going to be asked to stand by continent, except for those from Canada and the "najbara lando," who are asked to stand separately. This is the first time where it becomes clear how deep the representation from Canadians and Americans is. I had been worried that there might be very few Americans in particular, even when one of the organizers remarked two weeks ago that there had been a sudden influx of registrations from the US (due to NASK, perhaps?). And now it was clear that we had, in fact, turned up—Americans and Canadians together made up about half of the participants, relatively equally divided between the two nations. Greetings for the Americas were poignantly given by Jaboti Potiguar, a representative of Brazil's Indigenous peoples, and Chelsea Rae Moses, an American, both part of the "pandemic generation" of Esperantists.
In the afternoon I co-lead a presentation about SAT, with a focus on some less-known aspects of its history in North America. Just after this, the Esperantic Studies Foundation gave an update on its activity, including a presentation by Hans Becklin and others on their research project on the history of the Esperanto youth movement. Both were well attended and fostered good discussion.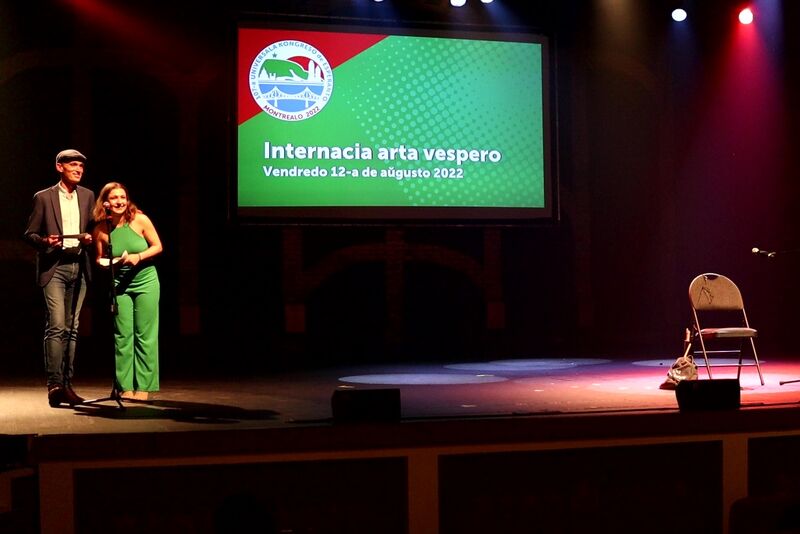 In the evening, we returned to the theater where the congress organizers had given a new—and very appropriate—spin to the traditional Nacia Vespero, in which there is usually a presentation of music, dance, and culture representative of the country hosting the UK. Instead, we had a Multnacia Kanada Vespero, accurately reflecting the existence of many nations and cultures within Canada: Mohawk drummers, an Inuit throat singer, a French-Canadian folk dance troupe whose fascinating style seemed to combine Contra dance with tap, and musicians playing traditional Irish music. The evening ended with a collaborative jam session between all of the artists in a sort of musical Esperanto.
Day 3: Monday, August 8
The morning saw the presentation of the results of this year's Belartaj Konkursoj, the traditional literary contest with multiple branches. This year saw a very steep competition with over 170 submissions. Two Americans were awarded or honorably mentioned, a first since 2011: Rafa Nogueras, from Puerto Rico, won second prize in Prozo, and I was honorably mentioned in Monologoj/Skeĉoj for a short theater piece.
After this was the Solena Malfermo of Esperanto-USA's convention. Roughly 50 were in the room, taking almost all of the seats. The session got off to a rough start, with the President trying to lead the meeting over Zoom, unable to effectively interact with the participants due to technical issues. Additionally, without a clear agenda, the meeting foundered. After a while, I intervened, suggesting that we had a lot of people and a lot of energy, and had a huge opportunity to have discussions in-person about the future of Esperanto in the US. (My timing could have been better, as I was called on just after the President had mentioned members who had passed away in the past year.)
Despite the unfortunate timing, the proposal was met with overwhelming enthusiasm. We chose Hans Becklin to lead a guided discussion to set priorities, and were able to take an additional hour in the room thanks to the graciousness of the organizers. Three overwhelmingly clear priorities came out of this meeting: kultura agado, retaj eventoj kaj klasoj, and kialoj (re-)membriĝi en E-USA. Afterwards, one veteran member of Esperanto-USA said it was one of the most exciting meetings they had seen since joining years ago, and several others made similar comments. It became clear that the one aferkunsido which had been planned would not be enough, and thanks to the effort of Secretary Charlotte Burton and Alex Miller, we were able to secure three additional sessions, one for each of the priorities coming out of this meeting.
With the meeting running late, we had just enough time for a quick dinner prior to the Kongresa Balo, where many of us stayed dancing ĝis la nokto-nokto fin', or at least until the hotel said we had to turn off the music!
Day 4: Tuesday, August 9
In the morning, a new literary contest—Interkultura Novela Konkurso—had its own debut award ceremony, in an efemera artgalerio full of beautiful art, including two interesting new paintings of Zamenhof by a local artist. Rafa Nogueras almost swept the awards for Puerto Rico, winning both first and second prize for his short stories, which can be read in the printed collection Amo, tuso, kaj forpaso. Several other Americans have work in the collection.
In the afternoon, we had the first two laborsesioj about the priorities defined in the opening session of Esperanto-USA. Both had more than 30 participants. In the first, Kultura Agado, Charlotte and Alex did an excellent job helping us to define specific sub-priorities, such as podcasts, theater, and publishing. This resulted in plans already beginning to take shape, such as for conversational and educational podcasts, for improv and scripted theater at NASK, and for bringing additional energy to Esperanto-USA's publishing activities.
The second working session, Retaj Eventoj kaj Klasoj, also defined sub-priorities and broke into smaller working groups. I was in one about online writing workshops and reading groups, where we talked about expanding the excellent work already being done by Bobelarto into the US. Another group also began plans for regular online classes that would be easily accessible and broadly promoted. (I apologize to the other sub-groups, which I don't have in my notes!)
After a very productive day, we ended the night with another amazing set of concerts in the theater and tried to get some sleep prior to Wednesday, traditionally dedicated to full-day excursions.
Day 6: Thursday, August 11
In the afternoon, we had the third laborsesio about the reasons that people would or should join Esperanto-USA or renew their membership. After another priority-setting discussion, we divided into two groups: one to discuss communication, and other to discuss benefits of membership. I sat in the communication group, and the overwhelming consensus was that we need a useful way for Esperantists in the US to be in communication with each other throughout the year, to carry projects forward and to see each other as a part of one movement. Additionally, the group agreed that we need a better strategy for communication from Esperanto-USA to its members and the public, and a website refresh.
Shortly after this meeting, we had the official aferkunsido, in which Treasurer David Beck presented the financial situation and the proposed budget for the membership's approval. His presentation set a new standard of professionalism for the organization! Alex then announced the results of this year's voting, which saw Ruth Kevess-Cohen join the board, and Fred Meyer and Charlotte Burton elected for a second term. Charlotte also summarized notes from each of the working groups on the plans which had begun to take shape, to the enthusiasm of the members, and Duncan Charters, president of UEA, briefly spoke at the end to emphasize UEA's desire to work with and support the Esperanto movement in the US.
The UK organizers had already organized some amazing evening entertainment on previous nights, but Thursday's program was unike elstara: the debut of 1910, a new play about Zamenhof's visit to Washington and Montreal in 1910, written and produced by Ĵenja Amis, a former member of the Atlanta Esperanto society (and my first Esperanto teacher). She now lives in Montreal and was a major part of the organizing team for this congress. Several other Americans played major and minor parts in the play: Alena Adler directed and also played the supporting role (outstandingly, I should say!), while Elle Beck, Rafa Nogueras, and myself were in a group that asked questions from the audience, and Alex Miller filmed. 1910 will certainly set a new standard for Esperanto theater, and the several minutes of standing ovation after it concluded confirm this. Afterwards, a representative of KEA (the Canadian Esperanto Association) came to the stage to announce that KEA had voted to confer Ĵenja with honorary membership, leading to renewed standing ovations.
Day 7: Friday, August 12
After lunch, I gave a well-attended presentation on the intersection between early sci-fi fan culture and the American Esperanto movement of the 1930s and '40s, including the unremarked debut of Cosplay at our national convention in 1939 (at the NY World's Fair!), and the forgotten successes of Joseph Scherer (then-president of EANA) in promoting Esperanto in Hollywood, leading to Esperanto in at least two films in the late 30s, one of which has gone unnoticed until now.
After this, we had the closing session for Esperanto-USA's Landa Kongreso. Charlotte and Alex read a proposed resolution which included thanks to our hosts, homage to members who have passed since our last in-person meeting in 2019, a summary of the priorities set during the week, acceptance of Raleigh as the host for the 2023 convention, a proposal for free membership for Esperantists in prison, and instructions for this year's nominating committee to begin a broad search for a new General Director so that we can finally allow Bill Harris to take a well-deserved break after many years of hard work for the organization. This was accepted unanimously and our Landa Kongreso closed with much excitement and anticipation about what to expect next year in Raleigh.
In the evening, we enjoyed the traditional Friday Internacia Arta Vespero, in which Esperantists from around the world are able to show off their talents. Here, too, Americans were well-represented. I was asked to help host/MC the evening after one of the planned hosts had tested positive for COVID; Alex Miller roused the audience with several bluegrass songs on his banjo; and Brian Harmon and others sang in the Internacia Koruso, closing out the evening.
Day 8: Saturday, August 13
The Solena Fermo is always an emotional moment, especially after such a powerful week. But the organizers did a great job with this as well, producing a professional and moving ceremony. I have no doubt that at next year's UK in Torino, there'll be a higher number of Americans than in the recent past (apart from Montreal, of course). And who knows—with the level of energy and enthusiasm that this week will inject into the Esperanto movement in the US, if we keep it up, maybe within a few years we can begin to discuss what it would take to host a UK here—which would be the fourth ever in the US, and the first in over fifty years!
But even if we want to aim big, let's start where we're at. The most urgent next step is for every active American Esperantist to join the Discord server (which is being announced in this issue) so that we can work together on projects such as podcasts, online classes, publishing, and planning an excellent, interesting, and well-attended LK in Raleigh next year. This next year will play a huge role in defining the future of Esperanto in the US—do your part! Get involved, join a project, and include the members of your local club!
Ĝis Raleigh – aŭ Torino!