Usona Esperantisto № 2021:1 (jan-feb)
Contests, blogs, and books
Hoss is one of the Directors of E-USA. You can contact him at hoss ĉe lodestone punkto org.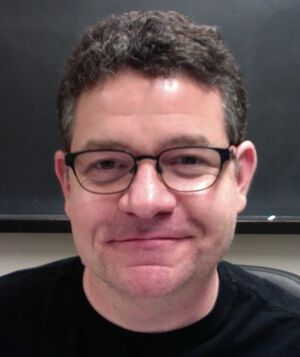 [Esperanto-versio estas havebla en la reta versio de la bulteno.]
In the previous column I mentioned that we've started using an online, asynchronous forum (Slack) for official business in order to relieve the bottleneck of our once-monthly Zoom meetings. Unfortunately, adoption of the the tool has been slow so far. Everyone's busy of course, with other obligations besides Esperanto-USA. But still, the slow progress makes it easy to grow impatient.
Video contest
We've just launched a video contest led by our very talented Alex Miller; You can find details on the contest page. (See About us > Film festival.) Hopefully it will generate some creative contributions. Alex has done great work in planning the contest, drafting rules, producing advertising materials and sample films, and generating interest. My much smaller contribution has been in translating the rules, creating the associated web pages, and promoting the contest on our social media channels.
Now we need your help in getting the word out—and in contributing entries, too!
Blogs
I've expanded the scope of our RSS-aggregator, the program that monitors member blogs and promotes their most recent posts on our home page. The aggregator can now follow not only blogs, but almost any web resource that generates a syndication feed—including YouTube channels, podcasts, and even Reddit forums. On our home page you'll now find many more links to member content. On our blog page (see About us > Blog posts) you can see which blogs we currently follow, and learn how you can add your own to the list.
Books
For over a year I've been working on a project to get Esperanto-USA back into publishing. Ideally this effort will eventually include new translations, prose, and poetry, but for now the focus is on restoring classics of Esperanto literature in low-cost (or free) print and electronic forms. Why look backwards? Because sadly, most of Esperanto's literary canon is simply no longer available, and new generations of speakers are losing their link to a rich literary culture. My first priorities are the prose titles in William Auld's Baza legolisto, only 13 of which (out of 31 total) remain available in book services.
One of my favorites is Marjorie Boulton's short story collection Okuloj. It went out of print many years ago, and can now be found only through interlibrary loan. After contacting EAB, which holds the rights to Boulton's works, Edmund Grimley Evans kindly agreed to put the book back in print. Tim Owen scanned a copy from the Butler library in Barlaston, the scan was converted to text by OCR software, and over several months we carefully proofread everything multiple times to weed out scanning errors. In the process, we even found a few mistakes in the original print run. A new edition should be back in print sometime soon; hopefully there will be an ebook version as well.
In 2020 I was also fortunate enough to receive permission from the great Vilmos Benczik—who tragically passed away this month–for Esperanto-USA to carry on his wonderful Fenikso project, another attempt to keep the Baza legolisto in print. In the 1990s Benczik republished several entries by Julio Baghy, and I hope to make these available again in a well-proofed digital edition that can be distributed as free ebooks and low cost (no-profit) print-on-demand editions.
As with many classics, the original printing plates have been lost. So the books need to be scanned from paper, converted to text, and then carefully proofread. The first two steps are the easiest; it's the proofreading that takes the most work. If you'd like to help, please let me know!